Are you a fan of Kate Middleton's (aka the Duchess of Cambridge) wedding dress style? This year's most famous wedding dress will soon be available for public viewing from July 23 to October 3 at Westminster Abbey, according to People. The entire dress, including the 9-foot train, the Cartier "Halo" tiara, earrings, veil and satin and lace shoes will be on view at Westminster Abbey later next month.
Kate's hairstyle included long locks curled in soft "romantic waves" behind her shoulders, which accentuated the dress. The veil's centerpiece was the 1936 Cartier "Halo" tiara, lent by Queen Elizabeth II.
To get Kate's half-up half down look, styled by James Pryce of the Richard Ward Salon:
Choose a long layer hairstyle and a one-inch barrel curling iron.
Start by using the curling iron on hair below the ears for soft romantic curls. Run the curling iron among 2-inch strands of the hair.
Part the hair in the middle and lightly run your fingers through the hair to separate the curls. NOTE: the more you move your fingers, the looser the curls. Practice lightly to match Kate's look.
Use a brush to gently pull back and smooth the front half of your hair for a 'demi chignon' look. Gather the sides up into a side ponytail.
Discretely secure the sides with pins, then use your fingers to gently shape the curls into place.
End with a shine hairspray throughout the hair and especially on top to keep the strands secure.
Some other half up-half down looks that you can try are with straight hair and light angles, or more of a combed through relaxed curl: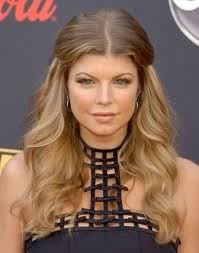 Image Credit: Outrageous Luxury, Glamour, Just Jared, and Style.com