Diane Kruger always looks glamorous and elegant, and the Met Ball was no exception. From head to toe Kruger's look was polish and perfected. Her hair and makeup is classic; up-to-date Hollywood waves, bold brows and red lips.
To get this Hollywood hairstyle you will need a teasing or fine-tooth comb, a curling iron and hairspray. The most striking part of this style is the extreme side part; to achieve this look take ¼ inch sections from the hairline to the crown and gently tease at the root to create volume. Part the hair as far over as you desire and then smooth out any stray hairs with a fine-tooth comb and a light hold hairspray. When curling the hair keep the barrel in a vertical position and slide it down and out of the hair to keep the curl shape. It is important not to comb out or separate the curls to keep this old Hollywood look intact. Finish the look with a medium to strong hold hairspray.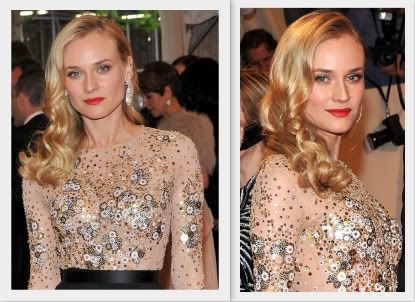 To get this Hollywood makeup look you will need a brow pencil, pale shimmer eye shadow and a matte red lipstick. Apply the shimmer eye shadow over your entire lid evenly to enhance the glow of your eyes. Apply mascara to both the upper and lower lashes to define your eyes. Apply your face makeup as lightly as possible. To define your brows use a pencil as close to your natural color and fill in throughout your brows to create a bolder look. Finish this look with a matte red lipstick and be sure to create a clean, crisp outline.
Emma Ramsey- Style Guru GKhair